Turn Reviews Into Revenue:
The Power Of Affiliate Commissions Uncovered.
UPDATE: The work-from-home movement has gained substantial national media attention in light of the lifestyle changes brought about by the pandemic. Discounted spaces in the Rapid Business Blueprint program are filling up fast. To secure your spot, act now! Check below for more information...
Dear future entrepreneur,
In a world increasingly interconnected by digital technology, opportunities for establishing a profitable online business are becoming more abundant.
One such opportunity, which has proven time and time again to offer a viable route to success, is affiliate marketing.
Affiliate marketing is a strategy that ticks all the boxes for a perfect online business.
It offers flexibility, scalability, and the ability to generate passive income—all from the comfort of your home or anywhere with an internet connection.
It's a business model that can be started with minimal upfront costs, which reduces financial risk, making it an appealing option for beginners and experienced entrepreneurs alike.
What makes affiliate marketing even more attractive in our digital era is its synergy with growing trends.
The rise of e-commerce, social media, and content creation provides a fertile landscape for affiliate marketers to thrive.
By promoting other businesses' products or services, you can earn a commission for each sale made through your unique affiliate link, turning your digital presence into a revenue-generating asset.
In affiliate marketing, having a specific set of skills can indeed give you the upper hand.
As the digital landscape evolves, so too should your abilities.
Learning how to create and manage compelling Review Sites, for example, can be a game-changer.
It not only enables you to offer valuable content to your audience but also to guide their purchasing decisions, and in turn, increase your earnings.
Our comprehensive course is designed to provide you with these skills, along with the knowledge of how to effectively utilize platforms like RevSites for website creation, ClickBank for product selection, and Google Ads and Facebook Ads for driving traffic.
It's a practical, hands-on approach that ensures you not only understand the concepts but can also apply them effectively in real-world scenarios.
Investing time in learning these new skills can truly set you apart in this digital world, transforming you from a participant to a leader in the online business landscape.
Remember, in this fast-paced digital world, being equipped with the right skills can turn opportunities into success stories.
So why wait?
Begin your journey in affiliate marketing with us and create your own success story.
What Will I Learn?
Are you interested in an effective way to build a rewarding online business? We've got the perfect solution for you: our comprehensive video and written training course on how to create Review Sites using the user-friendly website builder, RevSites. This course is more than just instruction—it's a roadmap to a successful affiliate marketing journey. Whether you're a novice or have some affiliate marketing experience, this course has something to offer you. You'll learn how to skilfully add ClickBank products to your Review Sites and earn affiliate commissions. But it doesn't stop there! We also provide invaluable lessons on how to drive traffic to your site using trusted methods like Google and Facebook Ads. Equip yourself with the tools and knowledge to create your own profitable Review Site. Our course breaks down the process into easy-to-understand steps, making it simpler than ever to start your own online venture. Invest in your future with our detailed course today and step into the world of affiliate marketing with confidence and ease.
Module #1
What Is Review Site Hero & How Does It Work?
This introductory module is designed to ensure a strong start on your exciting journey and provides the first steppingstone on your path to becoming a Review Site Hero. To kick off, we'll begin by exploring 'What Is Review Site Hero & How Does It Work?' We will take an in-depth look at the essence of this comprehensive training course, shedding light on how it empowers you to create and manage your own profitable Review Sites. Next, we'll touch on affiliate marketing and how big companies such as Amazon and eBay rely on an army of affiliates to promote and sell their products and how you too can join them, but more importantly, how to find similar companies that offer much higher commissions. Lastly, we will take a brief tour of the RevSites platform, the website builder at the heart of our course. You'll get a glimpse of its user-friendly interface and learn why it's our builder of choice for Review Sites. This module sets the groundwork for your success, offering a clear roadmap of where we're heading on this journey and how every piece connects to form the bigger picture of your future affiliate marketing business.
Module #2
Choose Your Done-For-You Review Site.
Module 2 is designed to provide you with a clear understanding of the simplicity and user-friendly nature of 'done-for-you' Review Sites on RevSites. In this session, we'll take a closer look at the concept of 'done-for-you' Review Sites. These ready-made templates from RevSites are designed to eliminate technical barriers, making it simple for anyone, even without coding skills, to start their own Review Site. We'll discuss the advantages of using these pre-built templates, emphasizing how they can fast-track the process of setting up your own site. You'll learn about the platform's user-friendly features, including the drag-and-drop formula, which we will delve into more deeply in later modules. This module focuses on preparing you for the steps ahead. It's about setting the stage for the exciting work to come, ensuring you understand the simplicity and effectiveness of the tools you will soon be using. By the end of Module 2, you'll have a clear understanding of how RevSites' ready-made templates work and the ease they bring to creating your own Review Site. This knowledge will set you up perfectly to create your Review Site in the subsequent modules.
Module #3
Find The Best Affiliate Networks To Join.
In Module 3 of the Review Site Hero journey, where we shift gears to focus on one of the key components of your success: choosing the right affiliate networks and products. Here, we delve into the vast world of affiliate networks. We'll look at a variety of networks, each with their unique features and offerings, providing you with a comprehensive understanding of what each platform brings to the table. We aim to give you the confidence to navigate these networks effectively and make informed choices that align with your goals and the needs of your target audience. But we won't stop there. Once you've grasped the ins and outs of these networks, we'll reveal the secret to choosing products that will make your Review Site shine. You'll learn how to identify the most appealing and promising products, those that will resonate with your audience and, in turn, propel your Review Site to success. This module offers more than just theoretical knowledge—it provides insights you can apply directly to your Review Site. By the end of Module 3, you'll be equipped with the knowledge and tools necessary to navigate affiliate networks confidently and choose products that can elevate your site's appeal and effectiveness. Get ready to immerse yourself in the exciting world of affiliate networks and product selection with Module 3 of Review Site Hero!
Module #4 | Pt.1
It's Time To Become An Affiliate!
The first part of Module 4 in your Review Site Hero journey! This module represents a significant milestone - it's time to officially step into the world of affiliate marketing by registering an account with ClickBank. In this session, we'll walk you through the process of signing up with ClickBank, one of the world's largest and most respected affiliate networks. We'll cover all the essential steps, from initial registration to setting up your account. We'll discuss the various components of your ClickBank account, how to fill out necessary information, and how to navigate the platform effectively. This comprehensive walkthrough will ensure that you understand all the ins and outs of your ClickBank account, setting you up for success in your new affiliate marketing venture. By the end of this module, you'll not only have your own ClickBank account but also a clear understanding of how to leverage its features for your Review Site.
Module #4 | Pt.2
Get Paid WEEKLY.
Now that you've registered with ClickBank, it's time to make sure you're set up to receive payments swiftly and efficiently. In part 2 of module 4, we'll guide you through the process of optimizing your ClickBank account to receive the fastest payment option available. We understand that being able to access your earnings promptly is crucial in maintaining momentum in your new affiliate marketing venture. We'll cover the necessary steps, settings, and preferences that need to be set up on ClickBank to ensure you're primed for quick payments. This includes understanding the payment threshold, choosing the right payment method, and other key elements that influence how and when you get paid. By the end of this session, you'll have a thoroughly optimized ClickBank account, ready to start generating and receiving income from your Review Site.
Module #5
Find The HOTTEST Products To Promote.
Welcome to Module 5 of your journey with Review Site Hero, where we will dive into one of the most critical aspects of affiliate marketing: selecting high-converting products. This module is all about equipping you with the skills and knowledge to identify and choose the best converting ClickBank products. These are the products that will maximize your potential earnings, making your Review Site a magnet for visitors and a reliable source of affiliate income. We'll walk you through this process step-by-step. From understanding what makes a product high converting, to interpreting ClickBank's product metrics, to ultimately making the right choice for your specific Review Site. This includes tips on evaluating product relevance, assessing vendor credibility, and considering commission rates. By the end of Module 5, you'll have mastered the art of product selection, positioning you to make informed, strategic decisions that can significantly enhance your Review Site's profitability.
Module #6 | Pt.1
Create Your Affiliate Link.
Part 1 of Module 6 of your journey with Review Site Hero and this section is all about one of the essential tools in your affiliate marketing toolbox – your ClickBank affiliate link. In this session, we'll guide you through the process of creating your own ClickBank affiliate link using the two methods provided by ClickBank. These links are your connection to commissions, serving as a bridge between your Review Site and the products you endorse. We'll provide a step-by-step guide on how to generate these links, explaining the different procedures involved in each method, and helping you understand which method is suitable for different situations. But understanding how to create these links is just part of the story. We'll also discuss why these links are so critical to your affiliate marketing success. You'll learn how these links track referrals from your Review Site, ultimately determining your commissions from ClickBank. By the end of this module, you'll not only be able to generate your own ClickBank affiliate links but also understand their vital role in your affiliate marketing journey.
Module #6 | Pt.2
Create Your Review Site & Add Your Affiliate Links.
The second part of Module 6 in your journey with Review Site Hero! Here, we're taking a significant leap forward - it's time to roll up your sleeves and start building your Review Site using RevSites.com. In this module, we'll take you through an in-depth, step-by-step tutorial on how to create your Review Site on RevSites.com. We'll walk you through the process, from selecting a template and customizing your site, to adding the final touches that make your site uniquely yours. But that's not all. We'll also show you exactly how to incorporate your ClickBank affiliate links into your Review Site. You'll learn how to seamlessly integrate these links into your 'Learn More' and 'Buy Now' buttons, a key step in monetizing your Review Site. This hands-on session will give you practical experience in building your Review Site and setting it up for success. By the end of this module, you'll have your own functional Review Site, ready to attract visitors and generate affiliate commissions.
Module #7
Get Traffic To Your New Review Site & Make Sales!
As we round up your learning experience, it's time to explore one of the most crucial aspects of your online venture – driving traffic to your Review Site. In this module, we'll touch on how to utilize two of the most powerful tools in the digital advertising realm: Facebook Ads and Google Ads. These platforms can help direct a stream of potential customers to your Review Site, increasing its visibility and profitability. We'll provide an overview of how these advertising platforms function, and how they can be optimized to target your specific audience. Though this module provides a brief introduction, it sets the foundation for you to explore and understand these platforms further. By the end of this session, you'll have a basic understanding of how to utilize Facebook and Google Ads to boost traffic to your Review Site.
After your journey with Review Site Hero, our all-inclusive program, you'll obtain more than a mere grasp of affiliate marketing - you'll secure a profound and detailed understanding of the intricate dynamics among different parts of the system. You'll boldly traverse the realm of Review Sites, affiliate networks, digital offerings, and web-based advertising, furnished with the expertise and capabilities to handle each sector with proficiency.
Above all, this program is designed to instill a mastery of crafting innovative and effective affiliate marketing campaigns. Here's a glimpse of what your achievements could look like:
Mastering Affiliate Marketing: You will learn how to create and manage your ClickBank affiliate account, select top-converting products, and effectively integrate affiliate links into your Review Site. These are key steps in maximizing your earnings from affiliate marketing.
Creating Powerful Review Sites: You will learn how to develop compelling Review Sites that resonate with your target audience. This not only establishes trust but also positions you as an authority in the field. Your Review Site will be your platform, your voice, and your pathway to becoming a leader in affiliate marketing.
Driving Targeted Traffic: Utilizing the strength of Google and Facebook Ads, you will be able to attract a consistent flow of traffic to your Review Site. These skills will enable you to build brand awareness, capture interest, and guide potential customers right to your doorstep.
In the end, Review Site Hero aspires to mold you into a skilled affiliate marketer, an individual who comprehends the terrain and can implement novel, resonating strategies that genuinely make a difference. Armed with these fresh abilities, you will open the doors to exciting possibilities in the vibrant arena of affiliate marketing, laying the foundation for a prosperous and rewarding digital enterprise.
What's In The Package? Register Now And Gain Immediate Entry To A Plethora Of High-Quality Educational Courses, Handbooks, Tools, And A Whole Lot More, All Brought To You By Esteemed Professionals In Their Field!
7 Core Modules: Each section contributes to a broader subject, paving the way for consistent progression through the course.
10 Video Lessons: Experience each video in a sequential manner, with the capability to pause, rewind, and fast-forward.
Full Color, 106-Page PDF Guide: View, download, and print the entire course in vibrant color and text form.
Free Growth Guides: Gain access to industry expert knowledge and useful tactics to propel your venture forward.
How-To Workshops: Enhance your digital marketing competencies with detailed and user-friendly practical workshops.
Growth Blueprints: Speed up your business expansion with expert-guided Growth Roadmap courses.
Special Deals: Avail of substantial savings and give your business a boost with exclusive offers on premier digital marketing tools and platforms.
Future Guides & Courses: Enjoy priority access to all new content, guides, resources, and courses added to the academy.
Review Site Hero: Excel In Crafting Review Sites And Propel Your Online Business Development At An Unprecedented Pace.
Review Site Hero is a comprehensive, step-by-step training course designed to empower you with the knowledge, skills, and practical understanding to become a successful affiliate marketer.
By utilizing the power of Review Sites, this course provides you a unique pathway to earn affiliate commissions, and ultimately, financial independence.
The course begins by introducing you to the world of Review Sites and the key role they play in affiliate marketing.
As we progress, you'll gain a deep understanding of affiliate networks, their unique offerings, and how to choose the most profitable products to feature on your Review Site.
You'll learn how to officially become an affiliate by registering an account with ClickBank and optimizing it for the fastest payments.
As you move further into the course, you'll gain hands-on experience in identifying top converting ClickBank products and crafting your unique ClickBank affiliate link.
A significant portion of the course is dedicated to building your Review Site using RevSites.com.
You'll receive detailed, practical guidance on creating an engaging and effective Review Site and learn how to seamlessly incorporate your affiliate links.
Finally, the course culminates with an introduction to two of the most powerful online advertising platforms - Facebook Ads and Google Ads.
This sets the stage for you to drive traffic to your Review Site and start earning commissions.
At the end of Review Site Hero, you'll not only have a functioning Review Site and a solid foundation in affiliate marketing, but you'll also be equipped with the skills and knowledge to sustain and grow your online venture.
The course is more than just a learning experience - it's a launching pad to your success in affiliate marketing. Embark on this journey with Review Site Hero and transform your dreams of financial independence into reality.
Meet Your Instructor.
Hello!
I'm Dael Baxter. (Pronouced 'Dale'... I know, don't ask)
From starting as a joiner's apprentice at 16, my career took a radical shift towards affiliate marketing at the age of 26.
I made this change for a better work-life balance and have never looked back.
Twelve years later, I've created and run multiple successful online businesses.
Even more rewarding, I've helped others achieve the same success.
My journey proves it's never too late to follow your passion, and I'm excited to help kick-start yours!
Discover The Versatility & Ease Of Utilizing Review Site Hero, That Delivers Outstanding Advantages And A Frictionless Learning Adventure.
Dive into studying at your own rhythm, whenever it suits you!
No distinct skills or educational background required! Kick-off your learning journey in merely a few hours!
Kick-start income generation almost instantly once you deploy the strategies acquired in the course!
Attain financial autonomy, mitigate financial stresses, and live the lifestyle of your dreams via affiliate marketing!
Devote quality moments with family, companions, and engage in your hobbies!
Learn within the soothing comfort of your home or any chosen location!
No requirement to adhere to formal dress code or travel to a specified location!
You dictate your learning journey without any supervision or monitoring!
Stay in control of your learning experience without a boss or instructor monitoring your progress!
Build confidence in your potential to generate digital revenue with the abilities gained through the course!
Bid farewell to hostile learning atmospheres! Revel in tranquillity as you learn at your own rhythm.
Our Promise To You: No One Gets Left Behind!
But there's more...
You'll be granted limitless access to our perpetually updated and refined training.
Uncover which firms are currently providing the most rewarding affiliate marketing offers and stay up to date with real-time intelligence on the most prosperous opportunities.
Take advantage of a treasure trove of insider tools that simplify and expedite your affiliate marketing journey.
Benefit from the wisdom and experience accrued over twelve years of hands-on exposure in the field.
Unveil a plethora of supplementary resources to aid your income generation.
Indulge in full access to the all-encompassing Training Academy.
Stay abreast with the most recent information, resources, and guidance we formulate and uncover in the realm of affiliate marketing.
Our Personal Commitment To Satisfaction Guarantee.
Upon registering for the Review Site Hero, you are assured immediate access, or your money back!
Post registration, take up to 60 days to traverse the course and apply the affiliate marketing tactics. If you find yourself unsatisfied, request a complete refund at any point within 60 days, and you'll have your full fee returned promptly. (A full refund can be requested via email, with all contact details provided). In simpler terms, you prosper with the course, or it costs you nothing.
Moreover, even if you request a refund, we would like you to retain all the special gifts you'll receive as a member. We comprehend that this course may not fit everyone's needs, so if it's not your cup of tea, kindly accept these complimentary gifts as a token of our gratitude for giving the course a shot.
We stand by this guarantee as we believe that by earnestly undertaking the course, you'll realize the financial triumph you aspire for, just like numerous others globally.
Now, let's reflect on the worth of everything you'll be receiving when you enroll in the Review Site Hero course:
Unlimited access to the continually updated Training Academy with abundant resources (Value: $997)…
The official kick-start guide, How to Get Started with Affiliate Marketing from Home (Value: $97)…
Complimentary, unlimited email support from our team and your personal success advisor (Value: $497)…
And a great deal more, as outlined previously (Value: Hundreds of dollars)…
The Value You Instantly Obtain Is Worth Over $2,000!
But of course, that's NOT the price!
With the support of financial strategists, we've determined that to offset our expenses whilst delivering all this value and backing, we can still diminish the price by over 75%... to $97.
Even though $97 represents fantastic value given what you receive, we acknowledge that for some, $97 may represent a significant investment.
We strive to ensure this course is as reachable as possible, offering everyone a fair chance to give it a go.
After conferring with additional financial strategists, we're ecstatic to declare that we've discovered a way to temporarily proffer an unbeatable deal! You can enroll in the Review Site Hero Program for...
A Special One-Time Investment Of Only $47.00!
For merely $47.00, you'll receive everything we've discussed: immediate, unrestricted access to the Members Area, unlimited personal support, and all the other perks we've discussed!
You'll obtain access to all of this within a mere five minutes, so you can commence immediately!
By deploying the strategies from this course, you could swiftly recoup your one-time investment of $47.00 and commence generating profit!
While these are mere illustrations of potential earnings, the possibilities are boundless.
Moreover, you're safeguarded by our personal 100%, 60-day 'You're Satisfied' Guarantee. This implies you have absolutely nothing to lose by giving it a go – in fact, you have everything to win!
To Get Started, Simply Click The Button Below:
Get Started!
With the Review Site Hero program, I can extend a unique one-time investment for a limited duration.
Due to our capacity limitations, we can only accommodate a certain number of members without incurring additional expenses. To continue providing the program and broadening its reach to more members, we will soon introduce a monthly membership fee of approximately $29.99 or elevate the one-time fee to around $500. However, if you sign up for the program now, your one-time investment of $47.00 will secure you unlimited access with no additional charges, ever.
We are limiting membership, and once all spots are filled, the registration page will be closed. Don't let this happen to you - sign up now to reserve your spot in the program. As soon as you join, you will gain access to the Academy Training centre where you can access Review Site Hero as well as many other resources and tools.
Registration is risk-free, and the process is quick and easy. Within five minutes of signing up, you will receive an email with your link to the Online Academy where you can select your own username and password to immediately access the exclusive members-only area.
Don't hold back – kick-start your journey to financial freedom from home today with Review Site Hero. Click the button below to get started now. And remember, you're supported by our personal 100% satisfaction guarantee, so you have nothing to lose.
To your success,
Dael Baxter.
Get Started!
P.S - I can't wait to introduce you to the Review Site Hero, an educational platform where you can acquire various skills to potentially make supplementary income online. With our program, you can operate from home and establish your very own authentic business.
P.P.S - We offer unlimited access to the Academy, which is constantly updated with the latest data and resources. You will also receive insider tools and resources that will make posting links efficient and swift. Our one-on-one consultation with a success advisor and unlimited email support provide you with personal backing throughout your journey.
And remember, you're backed by our 60-day money-back guarantee. If you aren't satisfied with the money you are making online, simply give us a message within 60 days and we'll gladly refund 100% of your investment.
For a limited time, we are offering a special one-time offer of only $27.00, which grants you full access and unlimited membership with no ongoing or additional charges, ever. This low price is available only temporarily, and once all the spots are filled, we will not accept any new members.
By confirming your enrollment now, you secure this incredible rate forever, and can begin creating review sites immediately. This could potentially pave your way to monetary independence, putting an end to your financial stresses, and allowing you to live the lifestyle you've always dreamt of.
Don't miss out on this valuable opportunity. Tap the button below to begin your journey with Review Site Hero right away.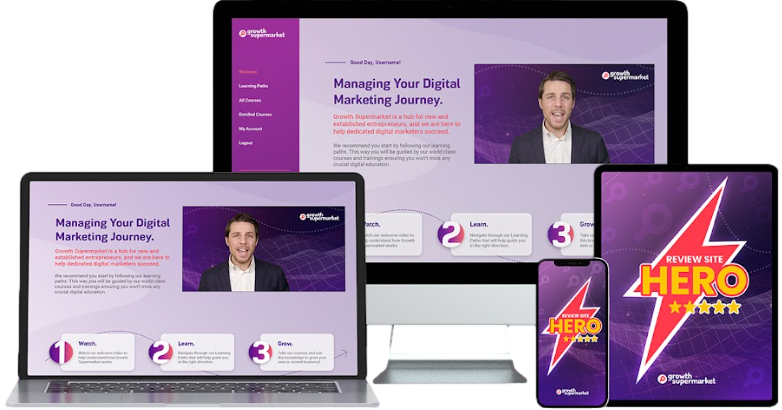 TRY REVIEW SITE HERO TODAY
INSTANT ACCESS. 100% MONEY-BACK GUARANTEE.
Get Started!
This is a secure transaction.
Your data is encrypted and is safe from unauthorized access.

Ditch the Office, Welcome Freedom: Kickstart Your Home-Based Career in Minutes!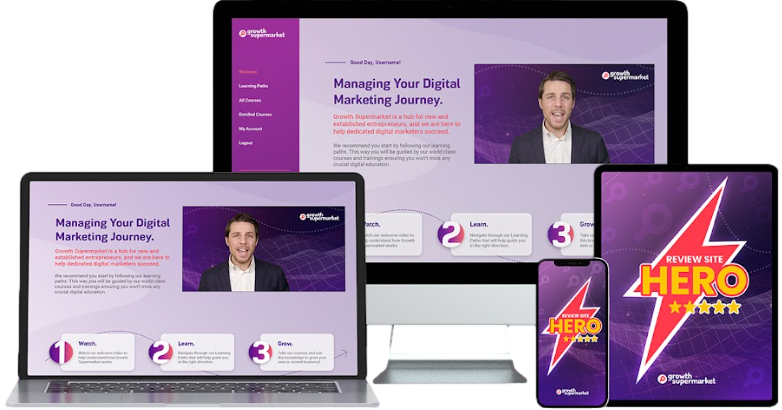 Enroll today and you'll get access to...
7 Core Modules.
10 Video Lessons.
Full Color, 106-Page PDF Guide.
Free Growth Guides.
How-To-Workshops.
Growth Blueprints.
Special Deals.
Future Guides & Courses.
Get Started!
Here's Just A Handful Of Companies That Are Making HUGE Commissions From Promoting Other Peoples Products!
~ The Diamond Pro.

"The Diamond Pro is a review and educational site about, you guessed it, diamonds. They offer extensive information and guides which engages their readers, along with detailed 'Reviews' about various jewellers. This is where they will insert their affiliate links and get paid a commission for any sales they make."
~ Your Dream Coffee.
"Your Dream Coffee is an affiliate website in the coffee niche which leans heavily on readers' never ending quest for the perfect cup. They offer a good mix of content that'll bring readers back, or at least offer some kind of value for repeat visitors. They make money by promoting various coffee brands, products (such as coffee pods) and subscriptions."
~ SaaS List.

"SaaS List is a great example of a Review Site. They display SaaS products, monetized via affiliate links . They boast a large portfolio, promoting a vast number of products, which increases their chances of a sale, maximizing their affiliate commissions. You too can implement this strategy, by following the Review Site Hero training course."
~ NerdWallet.
"NerdWallet is a giant brand in the personal finance space. They review topics like credit cards, insurance, mortgages, and investment advice. Like many other sites, NerdWallet displays a variety of products, helping increase potential commissions. If a reader doesn't like the sound of the first product, they have another chance to make that sale!"
~ Photofocus.
"Photofocus is a photography website with a combination of news, opinion, and of course product review content. They promote various products from cameras to studio equipment and as you can imagine, the products they promote will be in the higher price-range, meaning they only need to sell a few to make a healthy affiliate income."
~ Dog Food Advisor.

"Dog Food Advisor is a public service website. They offer expert advice on pet nutrition for caring dog owners. You can find anything from product statistics to insightful nutritional content. The primary reason behind Dog Food Advisor's success is its specialized niche. Instead of covering just pet food, they targeted canine nutrition. "
Ditch the Office, Welcome Freedom: Kickstart Your Home-Based Career in Minutes!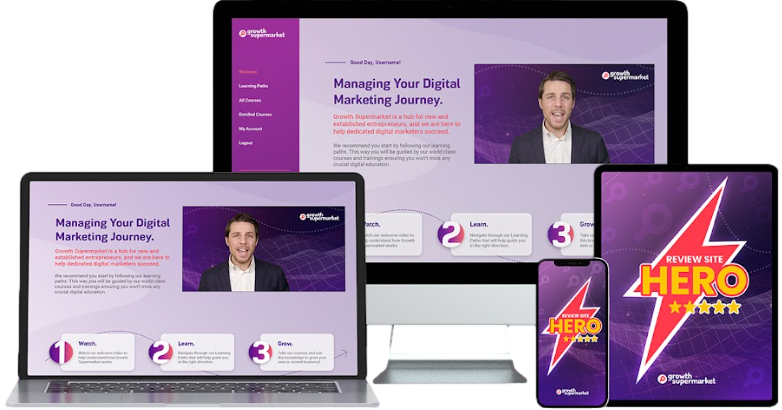 Enroll today and you'll get access to...
7 Core Modules.
10 Video Lessons.
Full Color, 106-Page PDF Guide.
Free Growth Guides.
How-To-Workshops.
Growth Blueprints.
Special Deals.
Future Guides & Courses.
Get Started!